Okay, this one's a bit of a journey.
I'm on a sketch team at the Upright Citizen's Brigade Theatre LA, it's called Bombardier and we have shows every fourth wednesday of the month at 8:30pm.
I wrote a runner/interstitial micro-sketch throughline to the show where we, the sketch group, discovered that you could buy live ladybugs on Amazon--and that we thought it would be very funny to drop a bunch of them on the audience. The show opened with a warning image: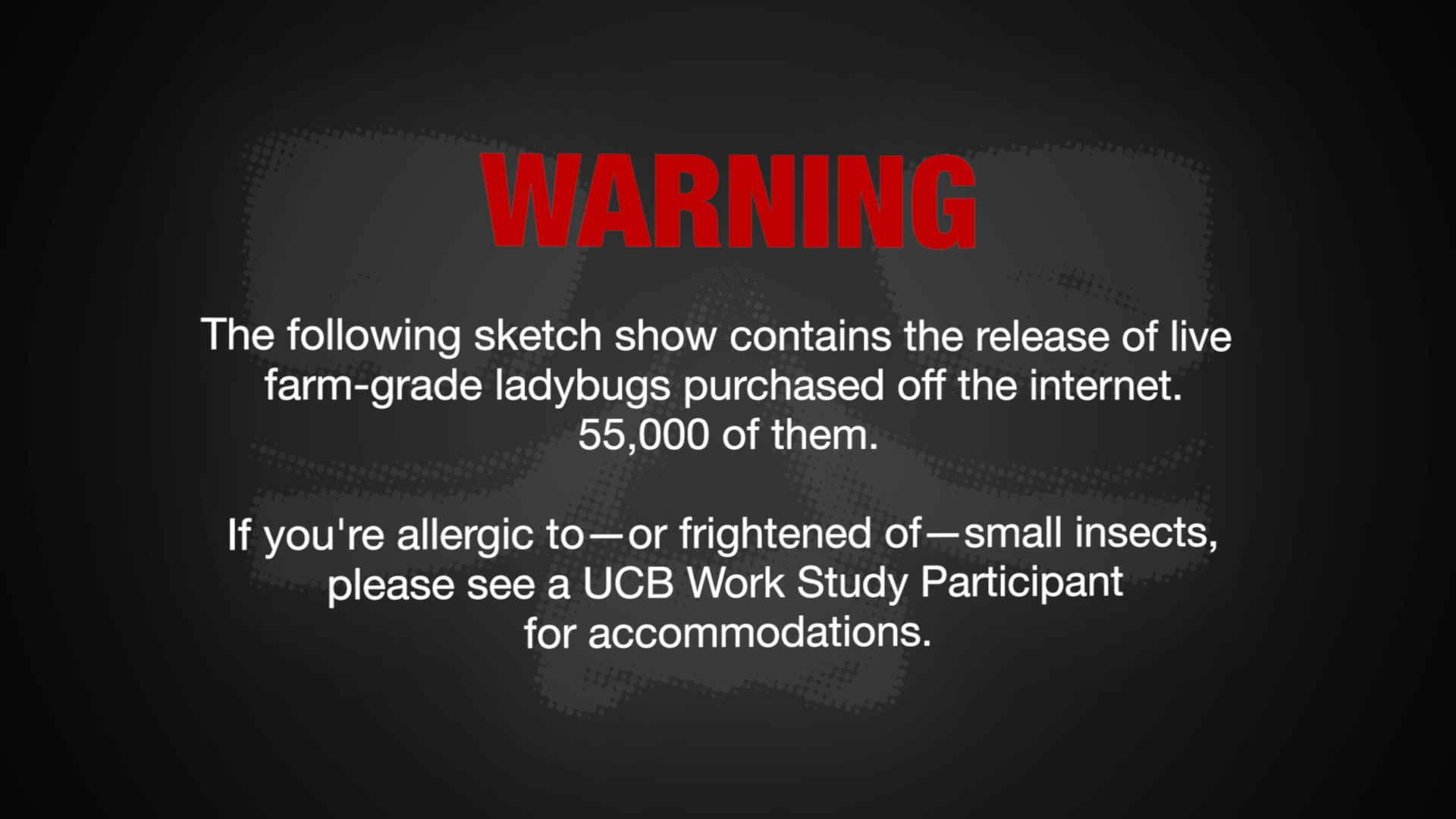 And after each sketch was a short video or graphic segment that furthered the idea. Here's part one, the pitch:
Here's part two, the first batch of ladybugs (in which we have actual real live ladybugs):
And here's part three, in which we discover that you can just make real merchandise for any actor in your sketch group that books a gig and can't make it to the show:
I actually set up a zazzle store (and ordered a few shirts with "I was there when Bombardier dumped 55,000 ladybugs on the audience and all I got was covered in ladybugs (and this t-shirt)" to throw into the audience). SO: I'll probably be receiving emails from zazzle for the rest of my life because of this sketch.
The show ended with a live sketch where we were going to dump ladybugs on the audience (BUT OF COURSE, the ladybugs escaped and gained sentience so it ended with a cliffhanger--UGH, ladybugs/narrative conventions, am I right?).
Here's a script for all of this, if you're interested.
Starring Bombardier. Written/Directed/Shot/Edited by me. Team Directed by Beth Appel.